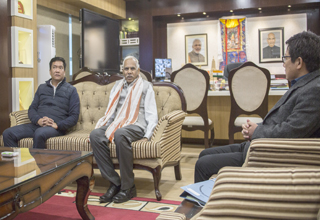 ITANAGAR, Mar 5: DoNER Secretary Naveen Verma in a meeting with Chief Minister Pema Khandu on Monday, urged the state government to focus on road that will give impetus to agro and tourism industry in the state.
He also suggested the state government that Arunachal can promote itself in tourism by giving concessions to big filmmakers.
During the meeting, the chief minister reviewed the projects under Non Lapsable Central Pool of Resources (NLCPR) for the state.
The meeting discussed mainly on projects related to drinking water, road and power projects.
The meeting also discussed on the new Central Sector Scheme of "North East Special Infrastructure Development Scheme" (NESIDS) and how to carry it forward in the state.
The scheme is 100% centrally funded to fill up the gaps in creation of infrastructure in specified sectors till March, 2020.
The chief minister reviewed the status of various ongoing and incomplete road projects in the state and sought reasons for the delay in completion.
Governor BD Mishra emphasised the need for expediting the development projects under DoNER and NEC in Arunachal Pradesh.
Mishra discussed on various projects of DoNER Ministry in the state of Arunachal Pradesh with DoNER Secretary Naveen Verma, when he called on the governor at the Raj Bhavan here on 5 March.
The governor emphasised that roads and air connectivity projects must be promoted by the Ministry of DoNER on priority basis for the state.