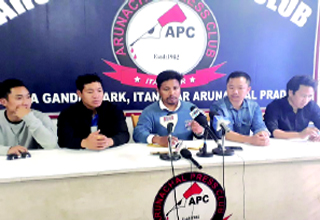 Students set high hopes on new director, or face uprising
[ Nellie Manpoong ]
ITANAGAR, Mar 7: Following the appointment of a regular director for the North Eastern Regional Institute of Science and Technology (NERIST) on 6 March, the Students' Union of NERIST (SUN) has suspended its ongoing protest.
This was informed by the SUN representatives on Wednesday here at the Press Club, who said that they were also seeking out measures to find the appropriate authority to address the issue of a director from outside the state.
Addressing reporters, SUN president Banta Natung said that since their priority was a permanent director, they have decided to suspend the agitation.
He, however, clarified that their demand for a regular director was always accompanied by the demand for someone who is not a faculty member of the NERIST, which has been completely overlooked by the Ministry of Human Resource Development (MHRD).
"The government has shoved a lollypop to shut our mouths," he said.
Clarifying on the demand for a regular director from outside the NERIST, Natung said that a technical institute like NERIST cannot rely only on professors for classes.
"A technical institute requires several equipment and research material for proper functioning. These things and more have a direct effect on our education," he said, adding that the run-down condition of the hostels and classrooms is another story altogether.
On the statement of Minister of State for Home Affairs Kiren Rijiju that there was a complaint made against former NERIST Director Prof Dipankar Pal, following which he was removed, Natung asked the MoS to come out in the open with the name(s) of those who placed the complaint and on what grounds.
Natung also voiced the hopes of the students and said that they expect much from newly appointed NERIST Director Prof HS Yadav.
The students hoped that their basic facilities would improve and technical laboratories would be upgraded. They called for repairing and maintenance of hostels and to shift Research Scholars to the CE Building till there are proper arrangements for their hostel.
On controversies surrounding Prof Yadav as director in-charge, Natung said that the controversies are not the concern of the students, and hoped that he would live up to the expectations of the students, or face an uprising.
Earlier on 5 March, the Arunachal Students' Union of Delhi, led by its president Likha Akash and general secretary Dewan Natung held a peaceful gathering and awareness programme in the Arunachal Bhawan at New Delhi, and Panipat and Karnal in Haryana during the statewide shut-down on higher educational institutes in solidarity with the SUN.