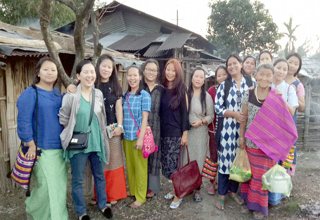 International Women's Day
ROING, Mar 11: The Enjalu Menda Women Empowerment Forum (EMWEF) launched a month-long programme with the theme 'Joy of sharing, empowering one another' to celebrate Women's Day here on Friday.
Under this programme, EMWEF will extend help to lonely women above 55 years belonging to the Idu-Mishmi community, informed the EMWEF.
The forum has identified four such women above 55 years-two each from Mayu and Cheta.
The EMWEF will continue this act of sharing with old ladies of similar situations from villages like Koronu, Chidu, Abali, Kebali, Abango, Enjono and many others.
The targeted group of women will be provided 25kg rice per person, one mekhela (local wrap-around), kettle, sugar, tea, frying pan and soaps.
"As of now it is just a one-time donation but in the coming months we are thinking of conducting awareness programme to generate a sense of responsibility towards the elderly people. We feel that our children need to learn and inculcate such act of kindness and duties towards their own grandparents and elders in the society", said Nina Mele of EMWEF.
Meanwhile, the International Women's Day was celebrated with the theme 'Press For Progress' by women officials and officers of RW Department at its office premises here on 8 March.
Speaking on the occasion, both RWD WZ Chief Engineer Kago Tabiyo, and RWD SE Nayi Rigia assured to the look into various grievances of women employees in his department.
Around 70 women employees of the department active participated in the celebration.