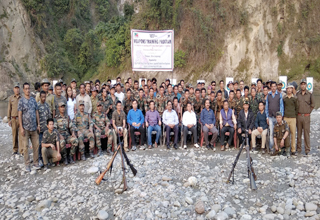 ITANAGAR, Mar 11: The Pakke Tiger Reserve organized its annual joint weapons training at Bhalukpong on 10 March, in which 114 frontline staff from the Pakke Tiger Reserve, Eaglenest Wildlife Sanctuary, Nameri National Park (Assam) and Sinchung-Bugun Community Reserve participated with personnel from 24 Assam Rifles as resource persons.
The daylong programme included training on general upkeep, maintenance of weapons, various combat techniques, followed by a firing trial for the participants.
Sankar Nayang, an elephant mahout, BorsingKro and John Tana were the first three winners.
Range Officer Kime Rambia said that the annual weapons training helps in forming a skilled and confident protection team.
Pakke Tiger Reserve DFO, Tana Tapiencouraged everyone to take benefit of such trainings, while acknowledging that frontline staffs are the backbone of protected areas.
Chief Wildlife Warden Dr R Kemp assured that the welfare of the frontline staffs will be taken care of.
Earlier, PCCF & Principal Secretary OmkarSingh flagged off the event, which is supported by the Wildlife Conservation Trust (WCT).
Compensation to family of beat guard
During the event, those who put their lives on the line for Pakke were also remembered.
The World Wildlife Fund (WWF), in association with the ICICI bank gave a cheque of Rs 3 lakhto widow of Rajen Naag, a beat guard who died while on duty in Pakke.
An amount of Rs 96000, raised from the crowd funding through "Bit Giving", was also handed over to Rajen's son, Sanjay. Earlier this year, the Wildlife Trust of India had also provided compensation to Rajen's family.