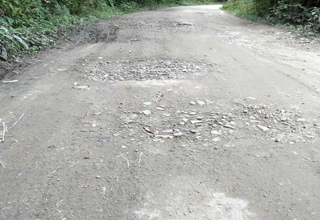 Staff reporter
ITANAGAR, Mar 11: The repairing cum re-carpeting of the Itanagar-Jote road is progressing at a snail's pace.
With barely a month left for the rainy season to arrive, the slow pace of work is a matter of deep concern for the citizens of Sangdupota circle as the Itanagar-Jote road serves as the lifeline for the people of Jote, Poma and Bassarnello.
The state government has sanctioned Rs 12 crore for repairing of the said stretch of road, the work for which is being taken up under the PWD Doimukh division.
The total length of the road is 24 KM, but the PWD informed that the state government has released fund only for 12 KM. Though the work reportedly started in the month of November 2017, barely 4 KM has been re-carpeted so far.
Even in those stretches where re-carpeting has been done, the citizens have raised questions on the quality of work.
Recently, many residents of Sangdupota circle took to social media to raise concern over the quality of work. Local MLA and Urban Development Minister, Nabam Rebia has also repeatedly asked the PWD Doimukh to complete work on time while also maintaining quality. However, things have not changed much at ground.
The prestigious National Institute of Technology (NIT) and state's first government law college are expected to start functioning from their campuses at Jote from the next academic session onwards making it more urgent to repair it on time.
Earlier, Chief Minister Pema Khandu, during a visit to NIT Jote in December 2016, had promised to convert the Itanagar-Jote road into a two-lane highway.
However, so far no effort has been initiated to turn the promise into reality.
"Several educational institutes like NIT, Government Law College, Government Women's College and the Film Institute are coming up in Jote area. Therefore, the state government should start the process to convert the Itanagar-Jote road into a two-lane highway. We are still hoping that Chief Minister Pema Khandu will fulfil his promise of converting the said road into a two-lane highway," said a resident of Jote.