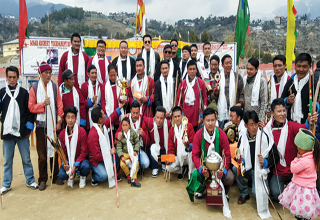 TAWANG, Mar 11: Team Urgelling once again emerged overall champion at the Losar Archery Championship, which concluded at the High Altitude Stadium here on Saturday.
Team Urgelling beat team Bomja by a margin of12-11 shots to emerge overall team champion.
In the semis, team Urgelling had beaten team Puna Para by a score of 10-5 shots, while team Bomja had beaten the Police team by a score of 8-5 shots.
Team Urgelling had also won the coveted title last year. Lham Tashi from team Urgelling with shots of 21 at the bull's eye was awarded 'man of the tournament'.
In the matches that followed, 10 archers from the team would take the shots at the bull's eye, approximately at a distance of 30 metres on rotation basis. The team striking 15 shots at the bull's eye within one hour would be declared winner, else the overall strikes at the bull's eye within an hour would determine the eventual winner.
Organized by the youth wing of United Tawang Association (UTA) and sponsored by local MLA Tsering Tashi, the Losar Archery Championship is considered an annual prestigious event that aims to preserve and upkeep the dying traditional sport, while also encouraging the youngsters to learn from the elders and imbibe this game for sake of the future generations.
Distributing prizes on the occasion, Tawang DIC Deputy Director Gyati Kacho appreciated the Buddhist Society for preserving their aged-old traditional sport and applauded the organizers for smooth management of the prestigious event. He also felt the need by other tribes, especially the Abotani tribes to learn and imbibe this practice of keeping alive the legacy of archery handed down by their forefathers to the younger generations who are distracted by the onslaught of technology these days.
Various categories of prizes, including overall team champion, runner's up trophy, best disciplined team, youngest player of the tournament, man of the tournament and commendation certificates to umpires were distributed on the occasion.
Fifteen teams comprising 10 members each from almost all blocks of the district had participated in the prestigious event which started from 21st February.