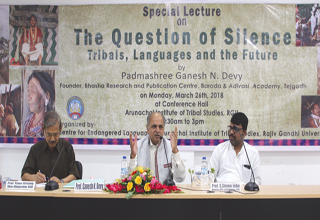 Staff Reporter
RONO HILLS, Mar 26: GN Devy, the man who led the People's Linguistic Survey of India in 2010, says that if enough effort is not made, another 400 languages will disappear in the next 30 years.
"We are walking on a graveyard of languages," he said while speaking on 'The question of silence: Tribal, languages and the future' at the Centre for Endangered Languages, Arunachal Institute of Tribal Studies (AITS), at Rajiv Gandhi University (RGU) on Monday.
"Languages are dying everywhere and it is a serious challenge," he said, stating that out of the 6000 living languages, 4000 will perish in the next 300 years as languages are collapsing all over the world.
Speaking on perishing tribal languages, Devy said that language classification in the constitution, and the creation of states based on linguistic identities, have not only led to neglect of tribal languages but negation too.
"Languages are being silenced and stateless languages are perishing," he said. "There was a serious challenge for continuation of languages. The result is that over 50 years, languages have started to disappear."
He said that during 1961, there were 1652 identified mother tongues, which have gone down to 800 languages in 2017.
"What we inherited through language stands to be dashed off, destroyed altogether because of the digital era," he warned, and said the situation is more precarious because the younger generation does not use speech as text messages have taken over.
"Memories have been outsourced to the digital world, making it a memory-free era of communication," he said.
Devy said that because of oral tradition, the tribals would be the last ones to lose their memories, even if the state wants it. For that to happen, he said, "We have to study not what the tribals remember but how they remember" if we wish for the future of languages.
RGU Vice Chancellor, Prof Tamo Mibang said that indigenous communities should speak their native languages at least at home. Sharing his concern over languages under threat, he said that native languages should be taught in schools.
AITS Director Prof Simon John, Prof Jumyir Basar, Dr Wanglit Monchan and Lisa Lomdak also spoke during the daylong event that also saw the release of the annual newsletter of the Centre for Endangered Languages.
The newsletter highlights the research and documentation process of the endangered languages of Arunachal Pradesh.