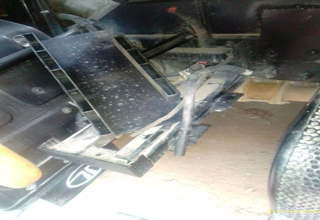 Staff Reporter
ITANAGAR, Mar 26: Unidentified miscreants in the capital complex have yet again targeted public amenities, this time stealing the battery of an Itanagar Municipal Council (IMC) sanitation vehicle (tipper truck) from Senki View, near BPL Colony on 25 March.
Giving more details on the recurring thefts, IMC Executive Engineer Tadar Tarang informed that the tipper truck was the only vehicle for door-to-door garbage collection for Ward 10.
He said that the daily routine of garbage collection has been affected in the ward and his office has received several complaints from residents.
Tarang informed that this has caused the IMC to send on a sanitation vehicle only after it is done with its designated ward, which has affected the timing. He requested the residents to cooperate with the workers.
This is not the first time that such an incident has taken place. Reportedly, there have been numerous incidents where IMC sanitation vehicle parts were stolen.
"Merely a fortnight ago, the tyre of a sanitation vehicle was stolen," the EE informed, adding that there have been several similar thefts.
He admitted that there was a need for designated parking spots for the vehicles to avoid such incidents.
Meanwhile, the total number of stolen garbage bins has also increased from 20 pairs to over 40 pairs in Itanagar and Naharlagun, including the railway station at Borum village.
Deputy Commissioner Prince Dhawan reiterated his appeal to the citizens of the capital complex and urged them to report such incidents and stop others from indulging in such outrageous criminal activities.
On the previous cases, Superintendent of Police Sagar Singh Kalsi informed that the police have spoken to scrap dealers, heavy machinery operators and such, but are yet to trace those involved in the theft of the parklet (public seating area which comes with a bench and shed) which was lifted from near the Thupten Gatseling Monastery gate on the night of 15 March.
The SP said investigation is on, and assured that those involved would be apprehended.