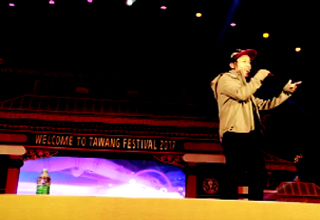 [ Karken Bado ]
Winner of Arunachal's first 'Rap Riot- 2015', featured in 'The Vivid Project' and composer of the background score of 'Orunasol Man' -the young rapper, composer and lyricist -Kekho Thianmkho, who is known by his stage name, 'K4 Kekho', rose to fame with his viral song 'I'm an Indian'.
The 23-year-old has turned many heads with his hard-hitting lyrics and quirky delivery and is taking on social media by storm.
In an exclusive interview with The Arunachal Times, Kekho shares, "I grew up with music and was always passionate about it. I had very supportive parents. My father was into singing too".
He developed interest in rap music at a young age. "I tried singing Sufi songs in high school and it was met with lukewarm response, but when I tried hip-hop, students would connect with it even though the delivery was poor then. As I wanted my message to get across, I soon developed interest in rap and hip-hop", he says.
Kekho's lyrics revolve around social issues. He raps about racism, dirty politics, drug abuse, extremism and the likes.
A native of Lower Chinhan in Tirap district, he claims that his lifestyle encourages his lyrics.
"I believe in giving people the real message. The truth is the truth and I tell it as it is!" he exclaims.
He raps in simple words using street lingo. Kekho adds, "I keep my words simple to get my message across with ease. I write and rap in Hindi also to reach a larger audience base".
On his rising fame, he humbly states, "I still consider myself a struggling artist. As a rapper, I am still learning. I am improving with each song but there is much more to learn".
His audience mainly include youngsters from the North-East. The audience is supportive but the market is limited and the artists are struggling for opportunity, he claims.
"Rap and Hip-Hop is just beginning in Arunachal. People here still prefer Bollywood songs, but I think it is the artist's responsibility to attract the audience".
While he supports the idea of 'following your dreams and passion', Kekho urges "Education is the light of life and absolutely necessary for everyone. One needs education to find his own niche".
After popular demand, this year will finally see the release of the music video of "I am an Indian", produced by Arunachal's Got Talent entertainment productions and a new single on social media and Youtube – "Mera daat lil' bit yellow".