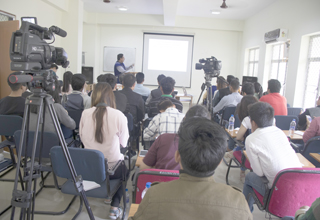 RONO HILLS, Mar 30: Forty-three participants, including Arunachal filmmakers, faculty members and students of the Rajiv Gandhi University (RGU) and others are attending a three-day national science filmmaking workshop which got underway at the university campus here on Friday.
The workshop is org-anised by the Communication Resources Centre (CRC) of the RGU's mass communication department, in partnership with Vigyan Prasar.
Addressing the inaugural function, Nimish Kapoor, head of the science films division of Vigyan Prasar, said the workshop is aimed at "demystifying the concept of science filmmaking and making it more accessible to audiences."
He said science filmmaking deals not just with neutrons and protons but also larger issues like climate change, environment, and pollution.
"With the smart phone taking over our lives, there is no moment when we are away from science, and so there is a need to train communicators to take on this challenge," he said.
In the context of Arunachal, he said, such films could bring into focus issues of landslides, the impact of de-forestation and cement and smelter industries, waste management, and conservation.
Chairman of the Young Scientists Schemes (UP-CST), Dr CM Nautiyal in his address advocated "inculcating into our thinking a scientific approach to viewing things from the prism of cause and effect framework."
Science, he said, is about developing a rational approach to understanding life and its phenomena.
"We need to understand that science is a way of our lives, and we need to change our attitude towards its better acceptance and understanding. And science films help us in doing that," Dr Nautiyal said.
Dr SC Thaledi, who is in charge of Doordarshan's Arun Prabha channel, said Prasar Bharti and Doordarshan seek to promote scientific temper and rational thinking as enshrined in the constitution.
Films ought not only to be educational and informative, but also entertain, he said.
"Science filmmaking, like any other art form, calls for our technique to be enhanced, so that we are able to tell our stories better," said film trainer from FTII, Ritesh Taksande.
He said the workshop would help the participants imbibe "a better sense of understanding the language of films."
Earlier, the workshop's focal point, Moji Riba said this is the first event taken up by the newly-established CRC.
"The centre has been set up with a mandate of providing capacity building and communication resources not just within the university but also to government and civil society, so that the crucial component of communication in every initiative is used to its full potential," he said.
He said the workshop is "a wonderful model of how synergies of government agencies, non-government institutions and the university can come together to make a difference in how we perceive and execute communication ideas."
An important outcome of the workshop will be a series of short films on science that will be produced.