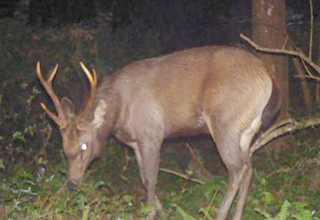 [ Prafulla Kaman ]
PASIGHAT, Mar 31: The Daying Ering Memorial Wildlife Sanctuary (DEWS), spread over an area of 190 square kilometres, has witnessed an increase in the population of wildlife, thanks to constant and intensified patrolling in and around the sanctuary.
The recent camera trappings conducted by Aaranyak, a premier research-based organization in the Northeast and a member of the IUCN, revealed that animals like hog deer, sambar, barking deer, hares, wild boars, wild buffalo and elephants are thriving in the sanctuary. Movement of some carnivorous animals, including big cat species, during night hours was also recorded during the survey.
"The Aaranyak team has conducted camera trappings in the sanctuary and its adjacent reserve forests, but has not yet disclosed their findings in detail. They will submit the data to wildlife experts for proper analysis and formulation of a conservation policy," Pasighat DFO (Wildlife) Tasang Taga said.
Officials of the WWF had conducted a camera trapping survey in the sanctuary in 2013 and traced many wild animals there.
Located about 16 kms southeast of Pasighat town in East Siang district, the sanctuary is considered a key factor for restoring ecological balance in the region, besides providing safety to the animals of the Poba reserve forest in bordering Assam.
The sanctuary was renamed as Daying Ering Wildlife Sanctuary, from the erstwhile Lali Wildlife Sanctuary, in October 1986.
It is reported that regular entry of cattle from the lower parts of the sanctuary (Assam side) during the dry season causes disturbances to the herbivorous animals of the sanctuary and also spreads foot-and-mouth disease among the wild animals.
Poaching is also becoming a challenge for the forest department in protecting the animals, said wildlife officials.
"It is very difficult to guard the wildlife sanctuary with numerous islands and water bodies with limited armed staffers. Moreover, the complex geographical location of the sanctuary, with an open boundary at the lower portion (Anchalghat range), is adding to the problems," the wildlife officials lamented.
They, however, claimed that poaching and hunting activities in the sanctuary have been curbed to a great extent in the last five years.
The Siang and its major tributary, Sibiya, pass through the sanctuary, providing a suitable habitat for wildlife, including some endangered species, to thrive. The wildlife sanctuary is also home to endangered species of vulture and the Bengal florican.