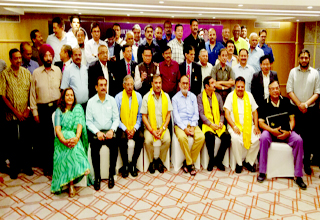 GOA, Apr 3: Assam Minister Himanta Biswa Sarma has been elected as the president of the Badminton Association of India (BAI) here on Tuesday, while Ajay Singhania has been elected as the association's new secretary general.
Arunachal State Badminton Association President Ratu Techi has been elected as one of the 12 vice presidents of the BAI, while Sports Authority of Arunachal Chairman Bamang Tago has been elected as one of the 16 executive members.
Chairing the annual general meeting of the BAI at a hotel here, the newly elected BAI president announced Rs 5 lakh per annum for each state association, Rs 90 lakh as prizes money for all BAI ranking calendar tournaments, and Rs 1 crore for the players' welfare fund.
The AGM also finalized the venues of various tournaments and the yearly calendar of the BAI for 2018-19.
Arunachal Pradesh contested to host the 43rd Indian Masters (Veteran) Badminton Championships (35+,40+,45, +50) before the AGM, but due to the unavailability of eight courts in one place as required by BAI guidelines, the AGM rejected the state's proposal to host the event.