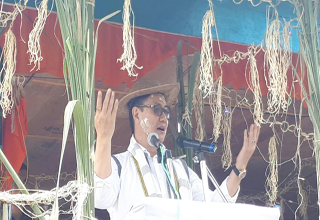 BARIRIJO, Apr 7: Union Minister of State (MoS) for Home, Kiren Rijiju on Friday urged the people of the state to cooperate with the state government in the implementation of developmental schemes and projects as he said the Trans-Arunachal Highway (TAH) project has not been able to take off because of land acquisition issues.
He cited the example of how the construction of the highway from Potin to Pangin remains a non-starter, despite the project having been sanctioned in 2010 and the work awarded in 2012, because the land falling along the right of way could not be acquired.
"The contractors have pulled themselves back from the project, and now the government will have to float tenders again in nine different packages for the 407 km stretch of the road," Rijiju said while addressing the people at the Mopin celebration here in Upper Subansiri district.
He said tenders will be called afresh shortly, and informed that the administration will maintain the road till the construction of the highway gets underway.
Rs 30 crore out of the approved Rs 60 crore has been sanctioned for the maintenance work, he informed.
"Though the tender for the repair work was conducted, it was cancelled due to lesser number of participants," Rijiju said, and asked the administration to start the tender work within a month.
He appealed to the locals to not create hurdles in the construction of the TAH.
Responding to demands placed by the public, Rijiju said the carpeting of the 13 km road in Maro would be completed, and that a memorial gate dedicated to late AT Kulo would also be constructed.
He also informed that the road to Taksing would be completed by 2019.