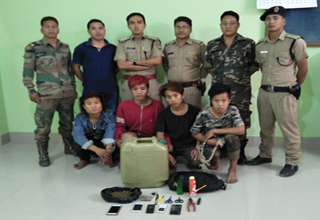 ITANAGAR, Apr 10: Continuing their crackdown on bike thieves, the police on Tuesday arrested four habitual bike lifters from Donyi Colony in Jullang near here.
The arrested bike lifters have been identified as David Paffa (19), Ropo Bagang (22), Luk Dolo (19) and Akil @ Nadam Tayum (18).
They were arrested during a raid conducted by police, IRBn and CRPF personnel, led by Itanagar PS SDPO K Sikom. The police also seized 5 cell phones, 35 litres of petrol, scissors, knives and other instruments used for breaking the locks of two-wheelers.
During interrogation, the bike lifters admitted their involvement in various vehicle lifting cases in Itanagar and Naharlagun areas since February 2017, informed SDPO Sikom.
"They had just arrived in Itanagar on 7 April to commit the same crime. But this time they got trapped in the hands of the police," said the SDPO.
A case has been registered at the Itanagar police station against the arrested persons.
Meanwhile, a team of police has been constituted to recover the stolen vehicles from various locations.