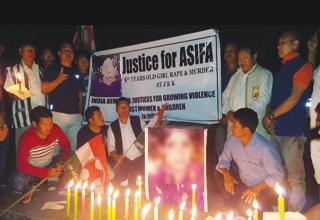 ITANAGAR, Apr 13: The Arunachal Pradesh Congress Committee (APCC) on Friday organized a candlelight protest here to register its anger over the central government's silence on the Kathua and Unnao rape incidents and increasing atrocities against women in the country.
All the senior Congress leaders and workers, along with PCC office bearers, frontal organizations, DCCs, CCCs, BCCs, and panchayat and municipal council leaders attended the programme.
The APCC termed the two incidents "most unfortunate and horrific, which have shocked the entire nation."
Under the BJP government the country has been witnessing a sharp rise in violence against girls and women, which has created a sense of insecurity and fear psychosis among the daughters of the nation, the party said.
The APCC demanded immediate arrest of all the culprits involved in the heinous crimes, and said they should be awarded exemplary punishment as per the law.