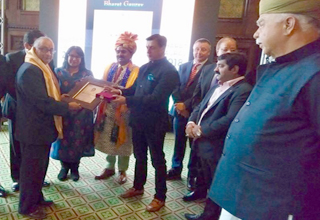 London(UK), Apr 13: Bishop George Palliparambil of the Miao diocese in East Arunachal was presented the Bharat Gaurav Award at a ceremony held at the British Parliament's House of Commons here on Friday.
He is the first Catholic bishop from Northeast India to get the prestigious award.
"This award is presented to people with extraordinary excellence in their fields, and who make India proud," said Pt Suresh Mishra, President of NGO Sanskriti Yuva Sanstha.
While receiving the award, Bishop Palliparambil underlined his lifelong commitment to ensure young people's education and health; promotion of indigenous methods of environment conservation; and upholding of traditional tribal values.
An alumnus of Salesian College, Darjeeling, Bishop Palliparambil, 63, heads the remotest diocese in Northeast India.
In 1990 he started Seva Kendra, an NGO for developmental activities, and started the first private school and hostel in Borduria village in Tirap district in 1992.
In 1997, he started economic and developmental activities like providing water pipeline in Ngissa village and tea saplings in Neotan area, and promoted dairy farming by providing animals to the villagers.
Bishop Palliparambil has set up several NGOs to deal with education, environment, and preservation and promotion of local cultures and dialects. He hopes to set up a cultural centre in Miao by the end of 2018.