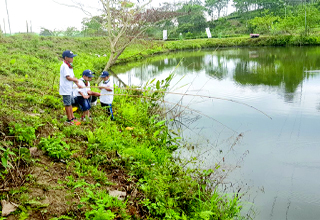 Young anglers learn sustainable fishing
Staff Reporter
SONAJULI, Apr 21: Celebration of the World Fish Migration Day began at the impressive Papum Pare Tea Estate here on Saturday with children of the capital complex participating in activities to understand the importance of conserving the fish population.
Themed 'Connecting fish, rivers and people', the small but significant two-day event is being organized by the Arunachal chapter of the All India Game Fishing Association, in collaboration with the Mahseer Trust.
The first day witnessed angling (catch and release) activities, a drawing competition, and a field visit to some of the fish ponds in the 40 sq km tea estate which houses 80 fish ponds and a fish hatchery unit besides a tea production unit.
Earlier, Fisheries Officer (HQ) Joram Rupa highlighted the importance of fish conservation for the ecology and for economic sustainability.
Commenting on the involvement of anglers in the event, Rupa said, "Angling is a skill-based sport which requires wide knowledge about fish." She said anglers provide important data about fish population, their quality, etc, "which is instrumental in tackling depleting fish population."
PA to chief minister, Dorjee Sona, who is also an avid angler, explained to the children the sport of angling and the equipment used in the sport.
Commenting on the idea behind organizing the event at fish ponds instead of rivers, AIGFA state representative Abu Tayeng said it is aimed at making it more participatory for the children.
He said they chose to hold the event in the estate, "so that children can actually catch fish and then release them."
The tea estate also provides ample opportunity for parents and their children to spend quality time in nature and experience the feel of staying in camps, Tayeng added.