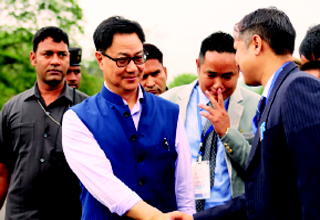 Ask what you can do for the state: Rijiju
RONO HILLS, Apr 22: 'Cadence 2018′ – the 12th edition of Rajiv Gandhi University's inter-college youth festival – was inaugurated here on Sunday by Union Minister of State for Home Affairs Kiren Rijiju.
Addressing the university fraternity and the students from various colleges gathered on the campus, Rijjiju said a great state does not happen on its own, and that for Arunachal to grow, each citizen has to contribute to the process of nation-building.
"Sometimes things aren't the way we want it, and in those moments we have to strengthen our resolve and see how we can best serve the state. It is only when each Arunachalee will ask what they can do for their state that Arunachal will truly change," he said.
With the advent of the Internet and social media the communication process has become more democratic, and today it is very easy to comment on events and issues that affect people, Rijiju said, and cautioned people against misusing the power of this democratic communication process.
He also lamented the prevalence of disharmony in the name of different cultures and tribes.
"Earlier, when there were no roads, connectivity was bad, life was very difficult. And yet there was a sense of belonging and a sense of unity. Now with a better state of living, things have instead created a problem of distance. We have started fragmenting as a people and now individualistic and narrow aspirations override the aspirations of the state as a whole," he said.
The minister called upon the students to participate in the festival as one mind and one thought, so that the sense of unity can be harnessed in a broader sense. He said events like Cadence are a gathering of intellectuals, which would provide the potential to influence the state's future.
"As we plan how our state progresses, the government must ensure that it consults with the university in realizing its development plans because what researchers and academics say is very crucial to our understanding of the process of development," he said.
He assured that he would personally follow up the memorandum submitted by the RGUTA and the RGUSU on various issues confronting the university.
Earlier, Vice Chancellor (in-charge) Prof SK Nayak said Cadence is organized "to promote cultural diversity and create an opportunity to involve every student of the state for excellence in every field."
Registrar Prof Tomo Riba and Students' Welfare Dean Prof Kesang Degi also spoke.
Cadence will be held over the next three days. Students from Jawaharlal Nehru College (Pasighat), DNGC (Itanagar), IGGC (Tezu), DPGC (Kamki), Government College (Yachuli), Government College (Seppa), Government College (Daporijo), Government College (Doimukh), Don Bosco College (Jollang), Doying Gumin College (Pasighat), and Saint Clarets College (Ziro) are locking horns in art, literary and cultural events and vying for the champion's trophy.