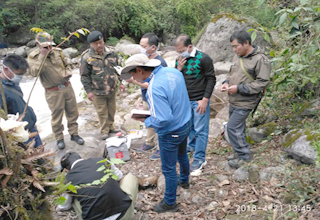 [ Tongam Rina ]
ITANAGAR, Apr 22: The carcasses of a male and a female goral were found in Mukto-Jang area under the Tawang forest division.
Divisional Forest Officer (DFO) Dr Abdul Qayum said that, prima facie, it appears that the gorals died of some infection.
Toxicological analysis of samples collected from the dead gorals has been sent to the College of Veterinary Science in Khanapara, Guwahati, for further investigation.
The animals were found dead on 18 April and, according to the local Brokpas, the animals had profuse salivation, with symptoms of blindness, and a staggering gait.
The principal chief conservator of forests in Itanagar sent Dr Sorang Tadap, veterinary officer (wildlife), Itanagar zoo, and Dr Jahan Ahmed from the Khanapara veterinary college (which carried out the postmortem examination), along with Tawang SVO Dr T Tashi to study the case.
The details are awaited.
Dr Qayum informed that as soon as the information was received from the villagers, a team comprising RFO (in-charge) Norbu Mompa, Jang veterinary doctor T Tashi and other staff were sent to the site to collect basic information and to ensure that the carcasses were intact, following which the postmortem examination was carried out the next day.
The DFO said there are reports of deer species dying due to an unknown epidemic, and that some dogs that ate the dead deer are either dead or are seriously ill.
There are also reports of wild animals dying in Zimithang. "Such unprecedented deaths are a matter of great concern and every effort should be taken to save these animals who are directly or indirectly an indicator of the health of the ecology and vegetation," the DFO said.
While details of the unusual deaths of the wild animals and the dogs are being gathered, the DFO has asked the residents to stay away from the dead animals as the carcasses are liable to create health hazards.
"Any part of the animal must not be consumed in any manner as it is not only illegal but is dangerous for health," he said.
The Tawang forest division is carrying out awareness among the Brokpas and others to report such cases, so that scientific intervention can be done on time to avoid further loss of wildlife.