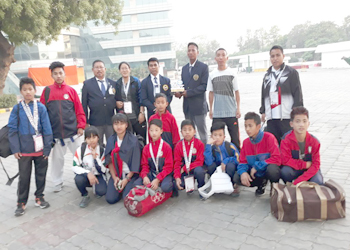 NEW DELHI, Apr 29: Arunachal Pradesh bagged two gold, two silver and three bronze medals in the KAI Sub-Junior National Karate Championship which was held here from 20 to 22 April.
The gold medalists are Rota Rigia (10) and Namsai Bagbi (12). While Rigia won his gold medal in the below 20 kg category in kumite, Bagbi bagged the second gold in the +40 kg category in the same event.
The silver medalists are Nangram Tachung (10) in the below 35 kg and Deepak Jomoh (12) in the +35 kg categories in kumite.
While Nyapa Leriak (13) bagged the bronze in the +40 kg category, Lipin Ete (11) and Kina Sipa (12) bagged a bronze medal each in the kata event.
Twenty-six players from the state participated in the championship.