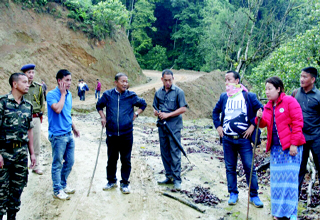 NYAPIN-SANGRAM, May 2: PHE & WS, Parliamentary Affairs, IPR & Printing Minister Bamang Felix rolled out slews of developmental programmes at various locations during his weeklong whirlwind tour of Nyapin-Sangram constituency from 20 to 28 April.
Starting his inspection spree with 10 ongoing Pradhan Mantri Gram Sadak Yojana (PMGSY) projects, comprising of approximately 185 KMs stretching from Pallang, Pinchi, Sango, Layang, Majuriang, Dolo, Langthi Loth, Yuba, Peel, Kaung, Leel and Langrh, Felix directed the executive agencies to maintain utmost quality while ensuring timely completion of the projects.
These roads when completed would provide connectivity to almost all villages in the constituency.
The minister also laid the foundation stone for road from Taji Langpo to Kambang under RIDF and bridge over Panyi River between Pogriang and Layang under CRF.
On inspection of road projects from Sangram to Nyapin – Phase I and II, Felix called for expediting the work.
On inspection and inauguration of critical infrastructure, like the PHC building at Hiya, 100-bedded girls hostel at Laya, Nyapin, Panung, Hiya Gida and Langro, infrastructure development of Tadar Taniang Government Degree College Nyapin, Eklavya School at Nyapin, VKV school at Gaga, DIET building at 'O' point, Bailey bridge over Pinchi river, Tourist lodge at Nyapin, circuit house at Lungsa and Langrh, RWD Division office at Layang, SDO office at Pogriang and rostrum at Sangram play ground, Felix called upon the people to make good use of the infrastructure.
One of the most interior circle headquarters of Lungsa and Phassang were also connected with the inauguration of bridge over Pinch River.
The minister further inaugurated the Keding Mini Hydro Project and inspected Pinchi Mini Hydro Project, which shall cater to the power need of the entire constituency.
Laying emphasis on development of hydro projects, Felix said that the government is very serious in developing green and clean energy from the enormous hydro power potential of the state.
During the tour, he was accompanied by the DC, PRIs, GBs, HODs, public and youths.