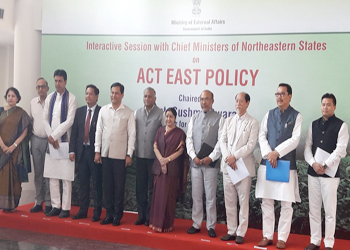 NEW DELHI, May 4: Deputy Chief Minister (DCM) Chowna Mein on Friday attended a meeting under the chairmanship of Union Minister of External Affairs Sushma Swaraj with chief ministers of North Eastern states regarding integration of North Eastern states into the 'Act East Policy'.
In the meeting, the DCM stated that the Association of South East Asian Nations (ASEAN) holds a great promise for development of North East India which has many cultural similarities with the ASEAN countries. He said North East is gateway to ASEAN.
He further emphasized that if proper initiatives in connectivity are taken, it will transform North East in the coming years. He advocated that the historic Stillwell Road needs to be revived for boosting trade relation with ASEAN countries.
Mein said that the proposed Indo-Myanmar-Thailand Trilateral Highway connecting Moreh with Mae Sot, Thailand via Myanmar has immense potential.
In the field of air connectivity, the DCM pointed out that no Indian airlines- private or public -provides direct air connectivity to ASEAN.
"The Government of India may explore providing viability gap funding to any airlines which provide direct air connectivity from North East to ASEAN countries on the lines of Udaan Scheme", he appealed.
In regard to trade and commerce, the DCM stated that the North East has great potential to offer in terms of agriculture, horticulture, bamboo, timber products, etc to the ASEAN region. The time taken in transportation by road to the rest of India is higher and will cost more in marketing of goods than with the geographically nearer ASEAN region and Bangladesh, he said.
The DCM outlined that tourism can be the fulcrum of India's Act East Policy.
"Engagement of the ASEAN through tourism will be a win-win situation for both India and ASEAN countries. There is a pressing need to market the whole Northeast as one tourism destination. North East Tourism Development Council should take a lead in making this concept a reality by coordinating with all the Tourism departments", added Mein.
The other thrust area could be Buddhism in North East as Arunachal Pradesh and Sikkim hold important seats of both Mahayana and Theravada Buddhism. Arunachal is visited by thousand of Buddhist pilgrims who can't always afford to come by air. In order to facilitate mass pilgrims, visa on arrival facility may be provided at Moreh, Manipur and Pangsau pass in Arunachal Pradesh, the DCM added.