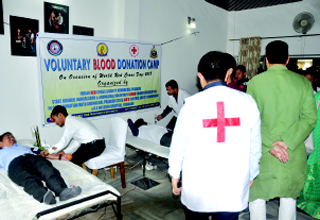 ITANAGAR, May 8: The World Red Cross Day was celebrated at the banquet hall here on Tuesday with the theme, "Memorable Smiles from around the World".
The event was organized by Indian Red Cross Society of Arunachal Pradesh State Branch, Naharlagun in collaboration with Arunachal Voluntary Blood Donor Organization (AVBDO).
Addressing the gathering, Deputy Chief Minister, Chowna Mein, acknowledged the humanitarian role played by the World Red Cross Society in caring and extending medical aids to the men, women and children in sufferings caused by wars and natural calamities across the world from the time when there were no proper Health Care facilities.
He lauded the volunteers and nurses for their helping hands in the most needed times.
Mein, who also inaugurated a blood donation drive held on the occasion, lauded the 200 volunteer blood donors, which included paramilitary forces like CRPF, ITBP and NDRF; the Rama Krishna Mission, civil organizations like the Oju Welfare Association, Mother's Vision of Aalo and Women Against Social Evils of Pasighat.
He further appreciated their contribution towards the society and Arunachal in particular.
Extending support from the state government to the Indian Red Cross Society, state branch for the noble cause, Mein said that the government accords top priority to the health sector.
He said that care facilities are improving in Arunachal Pradesh and blood banks are coming up in the general hospitals and some district hospitals of the state.
Dr Emi Rumi, honorary secretary of the Indian Red Cross Society state branch, highlighted the importance and history of World Red Cross Day. He informed that the World Red Cross Day is celebrated to commemorate the birth anniversary of Jean Henry Dunant, founding father of the Red Cross.
Retired Secretary (PHED), Tomi Ete, who is also the vice chairman of the state unit of Indian Red Cross Society and Tatung Ramesh Jeke, president of Junior Red Cross Society and chairman AVBDO also gave their inputs.
The Red Cross Society felicitated various organizations, namely, RK Mission Hospital, Itanagar, Oju Welfare Association, Indian Medical Association Arunachal Pradesh state branch, Mother's Vision Aalo and Women Against Social Evils and individuals, such as Toko Teji and Tatung Ramesh Jeke for rendering humanitarian service.