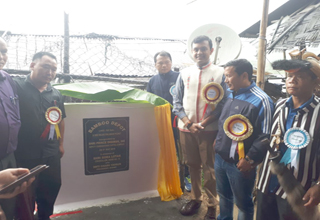 ITANAGAR, May 9: Capital Complex Deputy Commissioner Prince Dhawan urged the members of the Itanagar Market Bamboo Welfare Committee (IMBWC) to ensure that all the bamboo vendors function within the designated location and not to allow random selling of bamboos along the NH-415 other than the depot.
He said this during the inaugural of the bamboo depot at 6km between Itanagar and Naharlagun on Wednesday.
The DC also assured to notify the area as 'bamboo vending zone' in the next town vending committee meeting and directed Councillor Gora Lotak and Roger Nabam general secretary of AAPH&SVF to submit a proposal in this regard.
Emphasizing on the importance of cleanliness, the DC urged upon them to keep the area clean and to pay their garbage collection charges timely.
He also urged them to cooperate with the district administration in carrying out awareness and to brief people about the depot so that the system could be streamlined, or the DA would be bound to carryout eviction of random bamboo vendors.
The IMBWC also submitted a memorandum wherein they requested the DC for a toilet at the depot to which the DC assured to take it up in the second phase of construction of community toilets and asked Lotak to submit representation regarding the same.
The DC also informed that the first phase is expected to be completed in a month, during which 46 community toilets in Itanagar, Naharlagun and Banderdewa are being constructed.
Lotak further requested the DC to explore the possibility of allotment of a permanent bamboo depot. He also requested the IMBWC to ensure that there should not be mushrooming of bamboo vendors and bamboo sellers should run their business within the notified area only.
Itanagar EAC Hengo Basar, Charu Yassuk Chairman IMBWC, Khyoda Yaji, President AAPH&SVF and a host of other people also joined the programme.