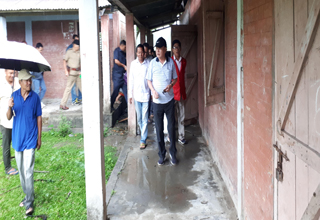 BALIJAN, May 9: Minister Urban Development Nabam Rebia on Tuesday visited the dilapidated ME School at Lengka village and directed the authorities to dismantle the school in order to pave way for construction of a new building.
The minister inspected the Lengka ME School along with DDSE Sorang Tapi Zara, PRI members and school managing committee after several complaints of pathetic condition of the school.
Addressing the gathering, he said that there is need for new building as the present building is in bad shape. On the request of the local people, Rebia announced a sum of Rs 25 Lakh under SIDF scheme for construction of separate building and directed the DDSE to prepare estimate and start all formalities for its construction at the earliest.
He warned that if the quality is not maintained, the payment to the contractor will not be released. He requested the school authority to monitor quality of work.
Balijan ADC in-charge Nabam Tajik, Balijan Anchal Samiti Chairperson Teli Kai, Lengka ASM Techi Kama, Headmaster Techi Kako, SMC Chairman Techi Talum, BJP leader Yowa Bullet, other PRI members, gaon burahs and locals were present on the occasion.