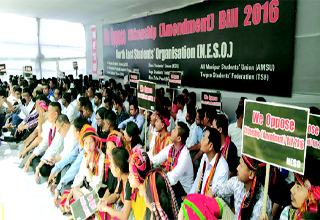 GUWAHATI, May 12: Beginning its protest against the proposed Citizenship (Amendment) Bill, 2016, the North East Students' Organization (NESO) held a sit-in demonstration on Saturday at Dighalipukri here.
Joined by all its component units from the northeast, including the All Arunachal Pradesh Students' Union, All Assam Students' Union, All Manipur Students' Union, Mizo Zirlai Pawl (Mizo students union), Garo Students' Union, Khasi Students' Union, Naga Students' Federation and the Twipra Students' Federation, the NESO has opposed the bill and placed various demands before the central government.
The demands include an update of the National Register of Citizens in all north eastern states, along with special constitutional status for the North East; common inner line permit for the entire NE region, and bilateral treaty with Bangladesh to deport the illegal immigrants.
Members from the Guwahati Arunachal Students' Union (a unit of the AAPSU) also joined in on the protest.
The next phase of agitation will be held on 21 May in all the state capitals of north eastern states.