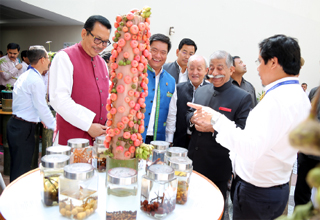 NE should not be taken up as a single entity while rolling out policies: Pema
ITANAGAR, May 18: Chief Minister Pema Khandu said that the Northeast should not be taken up as a single entity while rolling out programmes, policies, and schemes.
"All the Northeastern states, while being looked upon as one single entity from the mainland perspective, are quite distinct and different from each other. Each state has its own potentials and challenges. Even within a state like ours, each region, district, and community has their own potentials and challenges. I would therefore request the Government of India officials to approve and sanction state-specific programmes and schemes for the states to benefit in real terms," Pema said, speaking at the inaugural function of a two-day state conclave on 'Perspective planning for resurgent agriculture and allied sectors' in the state, at the state assembly auditorium here on Friday.
He reiterated his government's emphasis on agriculture and allied sectors for employment generation as well as self-sustainability.
The chief minister called for focus on bamboo production and its use for commercial purposes. He said bamboo, which is abundant in the state, has many commercial uses that people in the state are not aware of, and suggested brainstorming to find viable methods to process bamboo to generate sustainable economy for the farmers.
Expressing concern over hesitation by banks to offer loans to farmers, owing to poor repayment, Pema acknowledged the suggestion to evolve a system to guarantee repayment of loans. He said the government would prepare a module, so as to enable farmers to repay their loans as well as guarantee repayment to banks as a confidence-building measure.
Deputy Chief Minister Chowna Mein in his speech said the farmers are unable to get access to quality planting materials, and that limited agricultural extension is leading to low crop productivity.
"There are challenges of aggregation and absence of cold storages, and limited access to market linkages. Access to formal credit has also been difficult. Part of the problem has been the one-size-fits-all approach driven centrally, which has hampered the need-based solutions which are based on the diversity of geography," he said.
Doubling the farmers' income by 2022 in real terms is a big challenge and needs large-scale revamping, reorientation, and innovation in initiatives, he said.
"Determined and sustained efforts have been made to achieve transformational changes in all the sectors of the economy. However, it is also important to note that despite all the concerted efforts being made by the government in almost all the sectors, we need to put in all our energy in giving the farmers of our state renewed hope and direction for all-round sustainable agricultural development," the DCM said.
Governor BD Mishra, who earlier inaugurated the event, emphasized on establishing soil testing labs in the districts; zonal centres for seed procurement, storage, and distribution; integration and fine-tuning of irrigation schemes; and loan availability for purchase of farming implements for crop care and organic farming.
Mishra stressed on attitudinal change among district level officers, whom he described as "the cutting edge in implementation of programmes and schemes in the districts, circles, and villages."
"They have to take initiative and motivate farmers for experimenting with new crops, cash crops, multiple cropping and agricultural entrepreneurship. The plans will have the desired results only if the officers at the district and circle levels develop the attitude of innovation, involvement, help, guidance, and promotion of agricultural entrepreneurship schemes on ground," the governor said.
He said that the central government is focused on the development of the Northeast region under the Look East and Act East policies.
"Due to the favoured policy of the central government for the Northeast, the region is getting large number of aid and schemes," he said, and underscored that it is upto the people of the states to utilize them "transparently, accountably, and judiciously with due audit, review and mid-course correction."
Mishra said it is upto the district administrations to ensure that the benefits of the policies and programmes reach the commoners in the villages.
Legislative Assembly Speaker TN Thongdok, Deputy Speaker Tumke Bagra, Agriculture Minister Wangki Lowang, Animal Husbandry Minister Dr Mohesh Chai, RD Minister Alo Libang, Education Minister Honchun Ngandam, 15th Finance Commission Member Dr Ashok K Lahiri, Union Agriculture Secretary SK Pattanayak, DoNER Secretary Naveen Varma, GST Council Chairman Ajay Bhushan Pandey, Union Tourism Secretary Rashmi Varma, NABARD Chairman Dr Harsh Kumar Bhanwala, and State Chief Secretary Satya Gopal were also present during the event.
Earlier, the governor released a book titled 'Financing Agriculture Values Chains in India', edited by Dr Gyanendra Mani, Dr PK Joshi, and MV Ashok. He also opened the demonstration section (exhibitions) of the two-day conclave.
Organized by the state agriculture department in partnership with the NABARD, the conclave will focus on four broad themes – enabling environment for development of agriculture and allied sectors; promotion of sustainable use of bamboo, sericulture, apiculture, value chain and agri-export; promotion of horticulture and spices sector; and promotion of animal husbandry and fisheries sectors.
The conclave is also being attended by members of the ICAR and the Spice Board of India, and about 60 experts from agriculture and allied sectors.