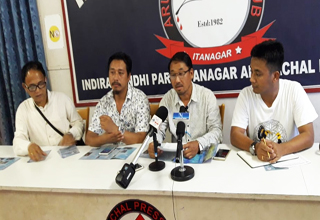 'Reckoning Arunachal, Beckoning Arunachal'
Staff Reporter
ITANAGAR, May 22: The Arunachal Pradesh Tour Operators' Association (APTOA), in collaboration with the tourism department, is all set to organize the 12th APTOA Travel Congress-2018 with the theme 'Reckoning Arunachal, Beckoning Arunachal' in Itanagar on 25 May.
Addressing reporters at the press club on Tuesday, APTOA president John Panye said the 12th APTOA Travel Congress would give a major boost to the tourism sector of Arunachal Pradesh as representatives of leading tourism industries of the country will participate and offer valuable ideas and thoughts to improve the state's tourism sector.
Three major topics have been selected for brainstorming by subject specialists, experts, professionals, and policymakers, as well as stakeholders in the sector, informed Panye, adding that the association wants the state government to come up with a proper policy for the tourism sector in the state.
"We want growth of tourism sector in the state, but not at the cost of our rich heritage and flora and fauna," Panye said, adding that the government should formulate a policy in line with that of Bhutan.
Regarding difficulties faced by visitors, especially foreigners, in getting restricted area permit (RAP), protected area permit (PAP) and inner-line permit (ILP), the APTOA president said the restrictions should not be lifted but relaxed.
He suggested that the government do away with the existing method and start a single-window clearance through the tourism director.
Inviting all stakeholders to attend the travel congress, which will be held at the state assembly secretariat auditorium, the APTOA president said collective responsibility from everyone is the need of the hour for the growth of tourism in the state.
Though Arunachal Pradesh has become one of the most sought after destinations in India, the growth of tourism in the state is still not up to mark due to reasons such as lack of human resources, lack of awareness among the people, etc, said APTOA general secretary Bengia Mrinal.
Besides stakeholders, around 18 panel members and three moderators from all over the state and the country will be participating in the brainstorming session. Their opinions and views would be taken into consideration for formulation strategies for sustainable development of tourism in the state as well as the Northeast region, the association said.