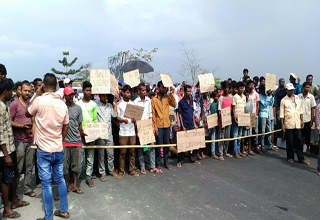 Staff Reporter
NAMSAI, May 23: National Highway-52 near Dirak check gate was blocked for nearly six hours on Tuesday by local residents of Lekang following an Inner Line Permit (ILP) check in Adinigroo under Piyong circle.
Reportedly, seven local residents of Lekang were asked for their ILPs in Adinigroo by security forces on Monday. The seven people showed proof of their residency in Lekang and other identification cards but those were not accepted by the security forces and they were asked to pay a penalty of Rs 100 and leave.
This did not go down well with Lekang residents and they staged a protest, blocking the national highway for nearly six hours from around 9 AM.
However, the EAC and DC, along with the police, arrived on the spot to pacify the crowd and controlled the situation.
The EAC informed the agitating locals that all district administrations have tightened up ILP checks, but admitted that it was a mistake and the magistrates had been directed not to seek ILP from Lekang residents who posses proper residency documents.
Deputy Commissioner RK Sharma also said that it was a misunderstanding as it can sometimes be difficult to identify locals and non-locals.
As of now, residents of Lekang do not require ILPs to enter the Arunachal boundary as they are permanent residents.
Meanwhile, former minister Bida Taku has written to the governor on 22 May seeking issuance for permanent resident certificates and scheduled tribe certificates to genuine indigenous people of Lekang circle to avoid further delay, and to avoid any law and order problem within Namsai district and other parts of Arunachal.