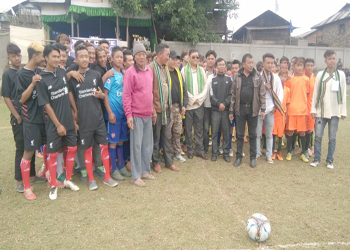 JERIGOAN, May 25: The Sartang Champion League Football Tournament, organized by the All Sartang Students Union, began at Ashu Zeng Zeng ground here in Nafra circle of West Kameng district on 25 May.
The opening match, which was played between TD Football Club and Nathongjee Brothers, ended in a 2-2 draw.
Other participating teams are Duthing FC, Mosi Yamcho Brothers, Rockpudu Brothers, Rahung FC, Salari Lions, and Kasi Siadu Brothers.