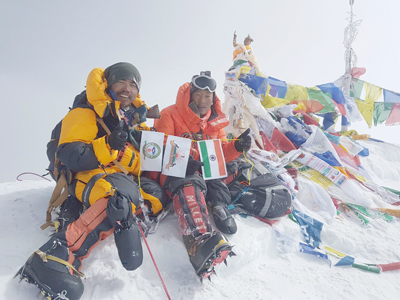 ITANAGAR, May 27: Kishon Tekseng from Yingkiong in Upper Siang district, and Taka Tamut from Jomlo Mongku in Siang district reached the summit of Mount Everest on 24 May at 9 am after a gruelling 13-hour nonstop climb from Camp IV – the last camp in South Col, in the area known as the 'death zone' – without the help of support staff (Sherpas).
Tekseng also climbed to Camp IV (26,000 ft) without supplementary oxygen.
Tekseng and Tamut scaled the highest peak in the world without any support staff, following a couple of unfortunate incidents as, first, one of their Sherpas had to be evacuated after suffering a head injury, caused by shooting rocks, during the climb to Camp III.
The Sherpa lost consciousness, and a rescue helicopter had to be called in. He was rushed to a hospital in Kathmandu, where he underwent surgery, informed the state youth affairs department in a communiqué.
With the assistance of the remaining Sherpa, the climbers managed to reach Camp IV – the last camp on the Everest route.
However, luck did not favour the team and the other Sherpa got high altitude sickness caused by low oxygen, and was unable to proceed with the climbers for the final assault on the summit.
While a majority of mountaineers take the support of Sherpas to climb Mt Everest's summit, the two mountaineers decided to go on their own to the summit.
They unfurled the tricolour, the Arunachal state logo, and their departmental logo at the top.
Tekseng and Tamut were trained by the state youth affairs directorate, under the guidance of ace mountaineer and adventure cell in-charge K Romeo Meetei.
The duo trained for the last four years at different national institutes and locations. Before the Everest expedition, Tamut and Tekseng scaled Mt Stok Kangri in the Ladakh Himalayas in preparation for the Everest summit, under the leadership of Meetei.
The youth affairs department has sponsored three mountaineers, including Muri Linggi, from Arunachal Pradesh in 2018, for Mt Everest expedition, and they have all emerged successful.