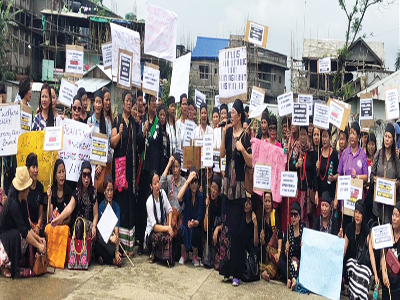 Staff Reporter
ITANAGAR, May 28: The movement against the controversial appointment of the chairperson and members of the Arunachal Pradesh State Commission for Women (APSCW) seems to be gaining momentum as hundreds of volunteers of the Arunachal Pradesh Women's Welfare Society (APWWS) on Monday morning staged a rally here, demanding immediate rectification of the appointment.
The state government has appointed Taba Nirmali as chairperson of the commission, and Taba Rosie and Padmeswari Jamoh as members. Nirmali had contested for the MLA seat from the Yachuli assembly constituency against present MLA Likha Saaya.
The APWWS alleges that the three women were appointed in a hush-hush manner and in violation of the laid down rules of the APSCW Act, 2002. It claims that none of the appointees had applied for the posts when the APSCW had floated the advertisement for the posts on 23 November, 2017, asking applicants to apply for the posts of chairperson, vice chairperson, and members.
The APWWS also claims violation of Section 5(1) of the APSCW Act, saying the commission has appointed a non-APST as a member by depriving deserving APST candidates.
Terming the appointment "illegal and detrimental in nature," the APSCW on Monday claimed that Chief Minister Pema Khandu appointed the three quietly as a "whimsical political adjustment," overlooking the laid down rules of the APSCW Act.
"We are not against anyone in our movement; we just want the government to rectify the current appointment," said APWWS president Bengia Dipti Tadar, addressing the crowd at the IG Park tennis court.
"We had submitted our representation to the chief minister on 14 May, and the CM assured to address the issue within one week. It's been two weeks but the government is doing nothing," she said.
APWWS advisor Gumri Ringu appealed to the appointees themselves to gracefully step down from their respective posts.
She informed that the chief secretary had sent an SMS, seeking a meeting with the members of the APWWS, but that the APWWS had to turn down the invitation as some of its members were not in town.
The APWWS has threatened to intensify its stir until its demand, that only those candidates who had applied for the posts be appointed, is met.
APWWS general secretary Kani Nada Maling said the APWWS is not against any political party, but against "the anomalies and irregularities in appointment."
Volunteers from several districts participated in the event. Former APSCW chairperson Jarjum Ete was among those who participated.