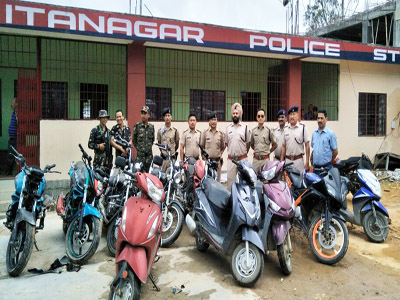 ITANAGAR, May 28: The police here have recovered several stolen two-wheelers from various parts of Arunachal and Assam.
Capital SP Sagar Singh Kalsi on Monday informed that the police arrested one Bare Gyadi from IG Park, in connection with Itanagar PS Case No 108/18 u/s 379 IPC, on the night of 24 May. The police seized a bag containing scissors, screwdrivers, a lighter, and tools used to break open vehicles' locks from Gyadi.
Based on information from the accused, two police teams were formed by Itanagar SDPO Kamdam Sikom.
One team, comprising ASI Kenter Tacha and IRBn jawans was sent to Seijosa in East Kameng district to recover two stolen two-wheelers. The team recovered two FZ Yamaha bikes from Upper Bali village, and one FZ and two Avenger bikes from Seijosa town.
The other team, comprising Itanagar PS OC T Bage and ASI AK Jha, led by the SDPO, recovered four scooters and one R-15 bike from various locations in the capital complex.
Further, a Bullet bike and a Ray Z scooter were recovered from Jamuguri and Helem in Assam.
The SP said 12 stolen two-wheelers were recovered during the operation.
"Strict direction has been received from the DGP to check the menace of bike lifting in the capital complex," he added.