ITANAGAR, May 29: Senior journalists Amar Devulapalli and Sabina Inderjit were elected unanimously as President and Secretary-General, respectively, of the Indian Journalists' Union (IJU) on Monday.
The Central Returning Officer (CRO) for the IJU Elections-2018, Prem Nath Bhargava, made the announcement after the deadline for withdrawal was over at 3 pm on Monday. Devulapalli and Inderjit are expected to assume their posts during the plenary session of the union, to be held shortly in Delhi.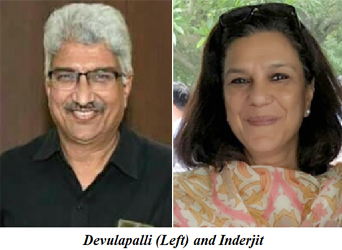 The IJU has the largest representation of working journalists from across the country.
Based in Hyderabad, Amar Devulapalli is senior journalist with four decades of service in journalism. He is presently the Consulting Editor of Saakshi daily. He also anchors a popular news-hour programme 'Fourth Estate' on Saakshi TV.
Starting his career as a journalist in Eenadu in the late '70s, he worked in Andhra Bhoomi, Udayam, and Andhra Prabha. He was the founder editor of Prajatantra Weekly. He served as chairman of the Andhra Pradesh Press Academy for two terms. He has been active in journalists' professional and trade union movements for over forty years.
Devulapalli was elected president of the Andhra Pradesh Union of Working Journalists for two terms, and general secretary for one term. Currently, he is the Secretary-General of the IJU.
Sabina Inderjit is a senior journalist based in Delhi and working as Associate Editor of the Indian News and Features Agency, founded by her grandfather and veteran editor Durga Das and nurtured by her father Inderjit, a veteran journalist and parliamentarian.
Earlier, she worked as special correspondent in Times of India. She served as a member of the Press Council of India for two terms, and was also a member of the Central Press Accreditation Committee of the Press Information Bureau.
She has been active in journalists' professional and trade union movements nationally and internationally for the last two and half decades. Currently, she is the Vice-President of the International Federation of Journalists, and was earlier elected member of the executive committee of the Brussels-based international body of journalists for four consecutive terms. She is presently Vice-President of the IJU. She held the post of vice-president of the Delhi Union of Journalists.
Outgoing president SN Sinha, former secretary-general K Sreenivas Reddy, and senior leader K Amarnath congratulated the duo on their election, and expressed hope that the IJU would continue to fight for the freedom of the press and for improving the living and working conditions of the working journalists in the country under their stewardship.