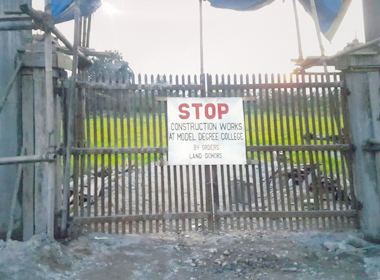 [ Karyir Riba ]
ROING, Jun 8: The construction work for the Govt Model Degree College in Lower Dibang Valley district has been halted by the land donors, who are objecting to the renaming of the college after late Jomin Tayeng without permission from the donors and the local management committee of the college.
Earlier, there was a controversy over the college's location itself. However, former MLA Bassu Perme and his family, on being approached by the administration and the public, donated a plot measuring about 30.5 acres at Jemi Notko near Jia village for the college.
"We had donated the land of our own volition for the college. The proposal of renaming it as Jomin Tayeng Govt Model Degree College was never discussed in any public forum or kebang or any college-related functions for that matter," said a land donor, adding that they came to know about it only when Education Parliamentary Secretary Bamang Felix mentioned it during his speech at an award function at Parbuk secondary school.
Perme, who has previously donated a number of other plots in public interest, including the land for the primary school in Notko, said he strongly resents the education secretary's order for displaying the land donors' names "engraved in marble slab" in the college premises.
"I am not hankering after name and fame. My contribution has been converted into an outstanding mockery by the department of education," said Perme.
He said the original name of the college "is the most appropriate, as it does not affect the sentiments of any person or community of the district."
Perme said he would have to reconsider his contribution and ask the department to look for some other suitable land if the renaming is not revoked.
"Until then, we have stopped all construction activities which were going on in the plot of land donated by us," he said.
Perme has also written to the education minister, the education secretary, and the deputy commissioner of Lower Dibang Valley, seeking their intervention in the matter.
Meanwhile, a Banggo meeting was held at the community hall in Jia, which was attended by the land donors, GBs, PRI members, elders, and villagers of Kundung Banggo and Meka-Roing Banggo.
They all disagreed with the renaming of the college, and resolved that if the government does not withdraw the renaming, the land donors would have the discretion to take further steps of their own accord.
The foundation stone for the college was laid by the then education minister Tapang Taloh in 2014, and the first session was started in 2016 at a temporary site in Jia.