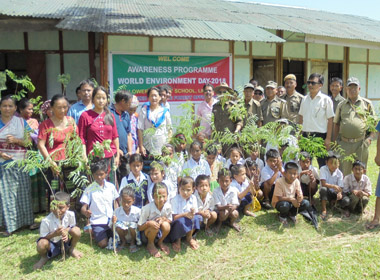 Correspondent
RUKSIN, Jun 8: The range forest office here in East Siang district recently conducted a four-day plantation programme covering different locations in Ruksin block.
The programme, which concluded at the lower primary school in Lingka village, was part of celebrating the World Environment Day. Forest department officials also carried out a series of awareness camps for villagers and school children.
The concluding programme in Lingka also featured a discussion on the significance of WED, and related issues.
Range Forest Officer Yide Potom explained the importance of planting trees for conserving the natural resources.
Degradation of forests is posing a threat to the ecosystem and is leading to increased man-animal conflicts, he said, and urged the people to plant trees along roadsides, and in school and office premises.
Potom, who has adopted the primary school, said he would donate some amount every year for the maintenance of the school.
Among others, Lingka GB Tage Tapak, Headmaster (in-charge) Nyapak Koyu, and Deputy Ranger Opang Jamoh participated in the programme.
Skits organized
In Lower Subansiri district, the All Hija Youth Association organized skit competitions at various schools in Ziro, in collaboration with forest department, to mark WED.
DFO Koj Rinya appealed to the people to put a complete ban on the use of plastic and disposable cups and plates.
"Plastic waste not only diminish the aesthetic beauty of any place but also are harmful for our domesticated animals, poultry, etc, as they tend to consume these plastic waste as a food from garbage," she said.