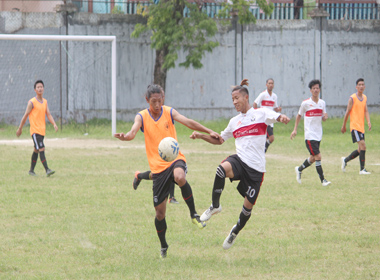 Hello FC and Nyime Yaru FC reach semifinals
NAHARALGUN, Jun 10: Hello FC and Nyime Yaru FC entered into the semifinals of the Capital Complex Dree Football Tournament 2018, defeating their respective opponents with an identical 2-0 margin.
Hello FC's Hibu Novin and Ligang Opo scored a goal in each half to beat Myodi Ajin in the first quarterfinal at Rajiv Gandhi Stadium here on Sunday.
Nyime Yaru FC (NYFC) booked their place in the semifinals, defeating Tanw United FC in the second quarterfinals.
After the barren first half, NYFC found the breakthrough when Khoda Payang scored just at the very beginning of the second half. NYFC doubled the score a few minutes later through Mudang Huto.
Huto was declared man of the match for his match-winning performance.
In the senior category, Bummer Sporting Association (BSA) defeated Senior FC 3-1.
Koj Tatung scored a hat-trick for BSA. The consolation goal for Senior FC was scored by Millo Tai.
Desevingly, Tatung was adjudged the man of the match.
Miichi United FC will play against Senior Hello FC in the third quarterfinal, before Sports Generation FC take on Naharlagun Arrows FC in the fourth quarterfinal on Monday.
In the senior category, Khokung FC will play against Patw FC.