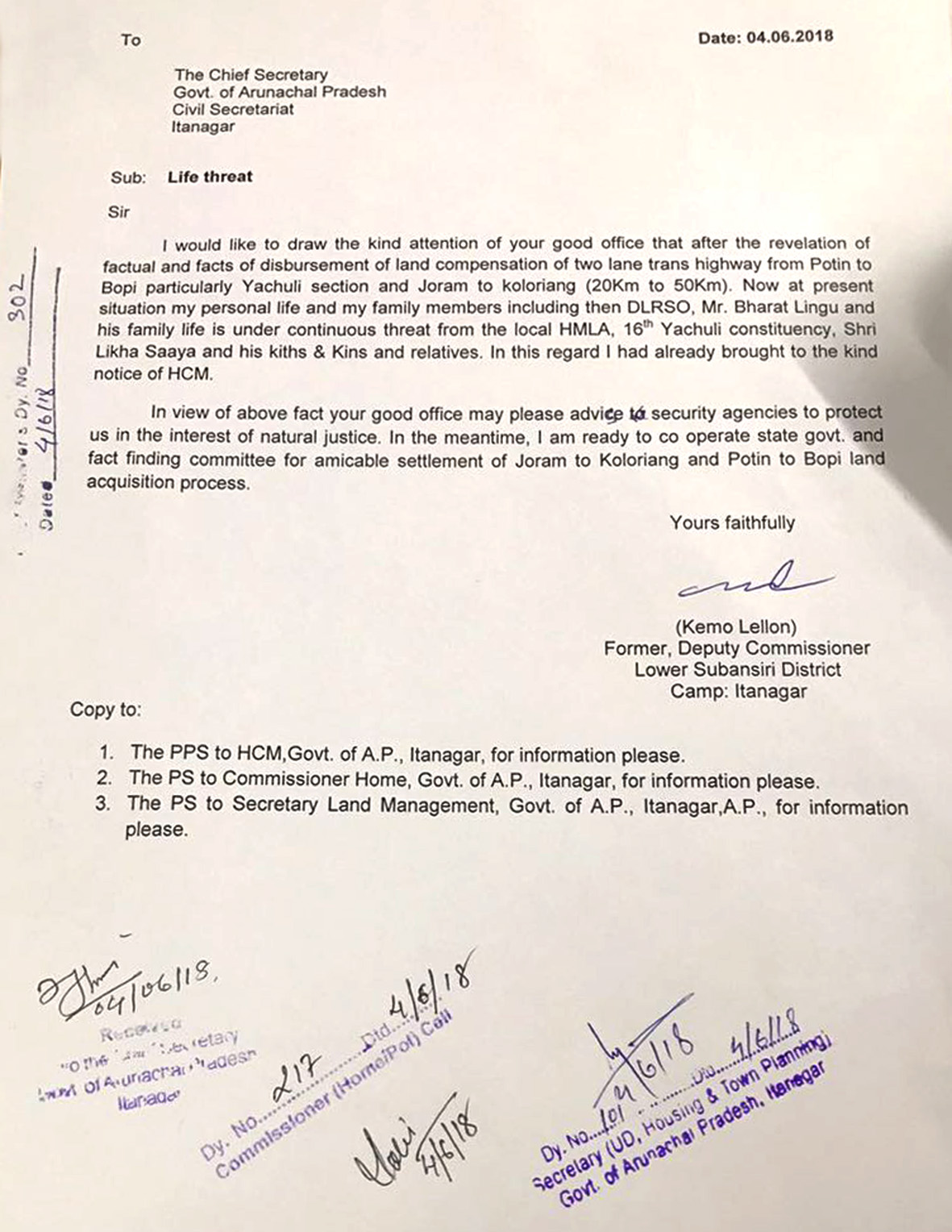 Former L/Subansiri DC seeks security, alleges threat from MLA
Staff Reporter
ITANAGAR, Jun 10: In a highly disturbing development in the controversial Trans-Arunachal Highway (TAH) land compensation issue, the then Lower Subansiri Deputy Commissioner Kemo Lollen has sought security from the government, saying his and his family's lives are under threat from Yachuli MLA Likha Saaya.
"After the revelation of factual and facts of disbursement of land compensation of two-lane TAH from Potin to Bopi, particularly Yachuli section and Joram to Koloriang (20 km to 50 km), now at present situation my personal life and my family members including then DLRSO Mr Bharat Lingu and his family life is under continuous threat from the local HMLA, 16th Yachuli constituency, Shri Likha Saaya and his kith and kin and relatives," Lollen stated in a letter, dated 4 June, 2018, to the chief secretary.
Lollen also stated that he has already brought the matter to the notice of the chief minister, and sought security cover for himself and his family.
"In view of the above facts, your (the chief secretary's) good office may please advise security agencies to protect us in the interest of natural justice," Lollen wrote.
He said he is ready to cooperate with the state government and the fact-finding committee "for amicable settlement of Joram to Koloriang and Potin to Bopi land acquisition process."
When contacted, Saaya said he would file a defamation case against Lollen for maligning him.
"I have not been in touch with the former Lower Subansiri DC after his posting from the district," the Yachuli MLA said.