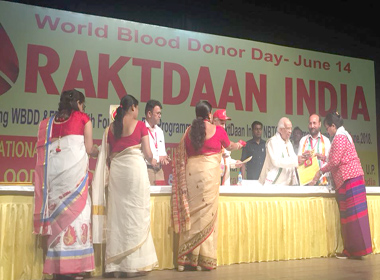 KOLKATA (West Bengal), Jun 16: Aini Taloh from Arunachal Pradesh was awarded in the 'prominent blood donor' category by the West Bengal government for her work and contribution in blood donation activities, during a function held at the Science City here on 16 June.
Taloh, who is the founder chairperson of the Pasighat-based NGO Ayang, was awarded alongside Gita Singh from Jharkhand, Sikha Singh from West Bengal, and Amit Banerjee from Uttar Pradesh by Governor KN Tripathi.
Nineteen other blood donors and workers from across the country were also honoured with 'Centurion blood donor of FBDOI (Federation of Blood Donor Organisation of India)' awards.
Taloh has been working for the cause of voluntary blood donation for years now, and has so far donated around 25 times. She also conducts regular blood donation camps, the last of which was held on the occasion of World Blood Donor Day at the Bakin Pertin General Hospital in Pasighat.