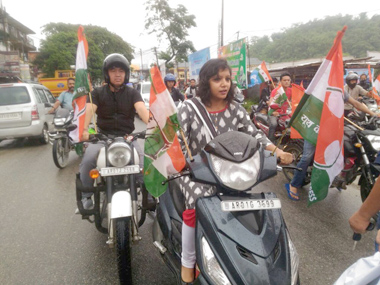 Staff Reporter
ITANAGAR, Jun 16: The Arunachal Pradesh Youth Congress (APYC) joined the Indian Youth Congress' (IYC) nationwide protest rally, 'Bharat bachao jan andolan rally', here on Saturday despite being denied permission by the district magistrate.
The bike rally, with some 400 Congress workers and leaders, was held to showcase the BJP government's 'failure' in taking forward policies and programmes for the common people of the country.
At around 7.30 am, the police in Nirjuli stopped the protestors from gathering at the Nikum Niiya ground, when Arunachal Pradesh Congress Committee (APCC) president Takam Sanjoy arrived and claimed that the party had sought permission from the SP to cross the Indira Gandhi Park area here by 8.30 am.
The officer on duty, Nirjuli OC (in-charge) Techi Nega, informed Sanjoy that he had orders not to allow any rally to take place, and denied permission to the protestors. The OC also asked for the permission order from the protestors, which they were unable to produce.
Refusing to give up, the protestors took off on their motorcycles in small groups, and gathered near Lekhi village, but were intercepted by the police again.
Speaking to this daily, Capital Complex SP Sagar Singh Khalsi said the APCC had been denied permission for the rally because the security setup in view of Vice President M Venkaiah Naidu's visit was still in place.
He informed that the protestors did not hold a group rally but rode out in trickles of small groups and arrived at Rajiv Gandhi Bhavan here.
Later, addressing the Congress workers, Sanjoy said the delay in conducting the panchayat and municipal elections in the state exposed the failure of the BJP government, "as it would cause the central government not to release funds."
APYC president Geli Ete claimed that the nation, the constitution, and democracy itself were not safe in the hands of the BJP government.
IYC national secretary Monalisa Banerjee exhorted youths to come forward for the Bharat bachao andolan against the "fascist and radical BJP government."
Later, the protestors left for Tawang district to attend the Congress party meeting there. They will also celebrate the birth anniversary of AICC president Rahul Gandhi by paying shradanjali to the Indian Army martyrs.