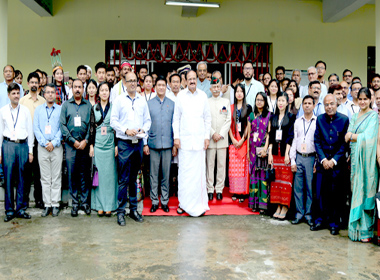 Staff Reporter
NIRJULI, Jun 16: Vice President of India M Venkaiah Naidu exhorted the research students of the North Eastern Regional Institute of Science & Technology (NERIST) here to strive to upgrade their skills and technological know-how and utilize their knowledge to improve the lives of people.
The vice president gave the advice during his visit to the institute on Saturday.
During his interaction with the faculty members and research students, Naidu enquired about the institute's internal revenue collection and funding, and the latest innovations and researches in various fields.
"The very purpose of science is to make human lives better. Science is not limited to just research and publishing books; it is also about inventing something new which will help improve our lives," he said, adding that more emphasis should be placed on improving the agriculture sector and addressing its challenges.
Explaining the purpose behind his visit, Naidu said he has been visiting various universities and institutes of higher and technical studies to find out the latest researches and innovations being developed in various fields, and to understand the feasibility and the challenges involved.
"Through my visits I intend to meet students of various universities with the view to motivate them towards achieving betterment of the country. I also intend to find out the challenges these institutes and universities face," he said.
Naidu said the idea of establishing technical institutes like the NERIST was to ensure that students would be able to pursue higher and technical education, and would, in turn, utilize their skills and understanding to work towards bringing more area-specific development, especially in the field of agriculture.
"We must reduce the hurdles and develop technology to improve agriculture. Research students should work towards understanding technology which is required for a particular region, as well as developing farmer-friendly crops. Such activities will also encourage gainful employment," Naidu said.
He advised the research students to undertake "real research" based on their interactions with farmers.
Earlier, NERIST Director Prof HS Yadav gave an overview of the institute, and selected research outcomes on various topics were presented by research faculty members like Prof HS Yadav, Dr Aditi Bhadra, and Dr Pradeep Kumar.