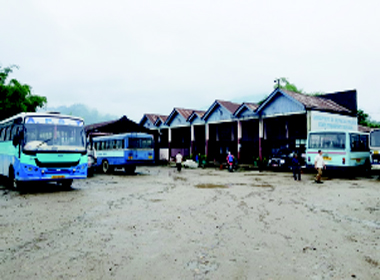 [ Nellie N Manpoong ]
ITANAGAR, Jun 18: One of the highest revenue-generating wings under the state transport department, the Arunachal Pradesh State Transport Services (APSTS) has been facing stiff competition and opposition from private players in providing regular city transport services to the masses.
Over two decades ago, the APSTS had been providing a few yet regular city services alongside private bus operators. However, the government-run and private-owned buses gradually started to disappear from the scene as other modes of private transportation, such as Trekkers and Tempos, took over the market in around 2005-06.
Twenty-three Jawaharlal Nehru National Urban Renewal Mission or JnNURM (now renamed as the Atal Mission for Rejuvenation and Urban Transformation or AMRUT) buses operating under the APSTS were first introduced in the state in 2010. These buses were used by large numbers of passengers as they were of better quality and were more comfortable and affordable.
However, some officials of the department, on condition of anonymity, claimed that opposition from private players hampered the smooth operation of these government buses and they were moved from plying the city routes to providing other services within merely two years of their launch.
Of the 23 originally introduced buses, six are currently serving as staff or student buses, two are for services to the railway station, and two are operating in Pasighat.
Of the remaining buses, some were damaged during protests, a few were auctioned off, and some remain under repair.
There are nearly 700 vehicles registered as city service cabs (Trekkers) in the entire capital complex region, with many providing services outside the city area as well.
According to sources, city service cabs plying within the capital complex region make approximately 100 rounds per day, with each cab making four trips on a good day, on a rotational basis.
On the increasing number of private-owned public transportation services, an official of the APSTS said it is necessary for the district administration to keep a check on the growing number of such vehicles and issue permits only after proper verification of the vehicles.
"Do we truly require so many Trekkers and Tempos? Many are poorly maintained and cause traffic nuisance as they create several lanes to carry as many passengers as possible," the official said.
He also expressed remorse that the JnNURM (AMRUT) buses are made to wait in queues with private buses when they carry passengers from Banderdewa to the railway station or to the interstate bus terminal (ISBT).
Reportedly, government buses running in the city are also not allowed to park for too long near the private operators. The lack of bus stops also affects the operation of the government-run buses.
"We are supposed to run on time for the passengers, whether the bus fills up entirely or not, but are coerced by private operators into waiting in queues. We are not even allowed to stop for passengers for over two minutes. Many passengers who get on the government buses are also forced to do so according to the rules of private operators. Who made these rules? Even if there are rules for private operators, they would not apply to government-run buses," the APSTS official said.
Another official informed that, in an effort to revamp the city services, the state cabinet this year announced a subsidy scheme for educated unemployed youths, whereby they will be offered subsidies to purchase and run mini buses in the twin capital cities.
"Around 40 buses under this scheme are expected to be rolled out this year by the APSTS," the official added.
Keeping gender budgeting in mind, 10 buses have been earmarked for women candidates, and they will operate buses specifically for women commuters. Seven buses have been earmarked for existing Tempo/Trekker drivers, who will have to remove their own vehicles once they are selected under this scheme.
The mini buses are expected to generate self employment for at least 80 persons and provide half-hourly public transportation as well.
The government is expected to save recurring expenditure on 40 drivers, 40 conductors, annual maintenance, fuel and lubricants, and on the burden of paying pension to 80 people.
While some officials are apprehensive about the introduction of this scheme and believe that government-run mini buses could also be procured as the APSTS is a revenue-generating wing, other officials opine that the APSTS is making negligible revenue in the city services section and the scheme would not affect its revenue in any large way.
Established in 1975, the APSTS currently has 223 buses and 29 Tata Sumo taxis operating across the state.