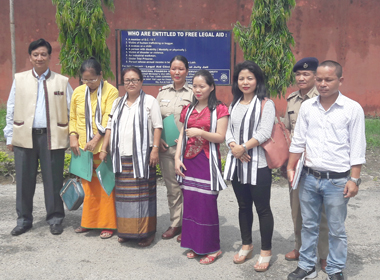 ITANAGAR, Jun 19: The Arunachal Pradesh State Commission for Women (APSCW) has requested the state government to look into the implementation of the proposed vocational training programmes, library facilities, recreation rooms, and other infrastructure in the jails of the state as early as possible for the betterment and reformation of the inmates.
The commission made the appeal after it visited the district jails in Tezu (Lohit) and Itanagar (Papum Pare) on 15 and 19 June, respectively, at the direction of the National Commission for Women.
APSCW Vice Chairperson Padmeswari Jamoh and Legal Advisor Yade Jeram inspected the jails and interacted with the inmates.
DSP-cum-Tezu jail in-charge Radhe Olley informed the duo about the programmes and facilities availed by the inmates, including legal aid, medical attention, counselling, co-curricular activities, and spiritual and devotional programmes.
The Tezu jail includes both male and female inmates.
On 19 June, the APSCW viceh chairperson and legal advisor were joined by Member Secretary Yame Higio and UDC Tem Yabi during their visit to the district jail in Jully.
The team noted that the jail has legal aid and medical facilities (along with separate cells for inmates suffering from communicable diseases), a conference hall, and other facilities.
The team was informed that the government is planning to upgrade the district jails to central jails with the required facilities. It was also informed that vocational training programmes for both the district jails are "under proposal of the government," the APSCW informed in a press release.