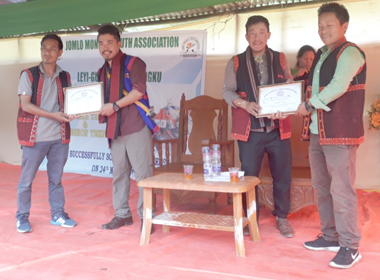 JOMLO MONGKU, Jun 19: Mountaineers Taka Tamut and Kishon Tekseng, who scaled the summit of Mt Everest on 24 May, were welcomed home here at Tamut's native village in Siang district and honoured in a function organised by the Jomlo Mongku Youth Association and the Leyi-Gumin Jomlo Mongku.
The mountaineers shared their experiences and the difficulties they faced while climbing the highest peak in the world. They also screened a documentary on those who were successful and those who perished during their journey to Mt Everest.
The duo encouraged the youths to take part in adventure activities, such as mountain climbing, paragliding, cycling, etc, and explained the scope in the sports sector.
"If youths of the area want to take part in adventure activities, we are here to guide them," they said.
Power Minister Tamiyo Taga, who also attended the function, said: "The village has many talented people in different fields, and Tamut and Tekseng's achievement was a proud moment for us all."
Villagers, dignitaries, government officials, leaders, NGO representatives, and others were present to welcome the duo home.