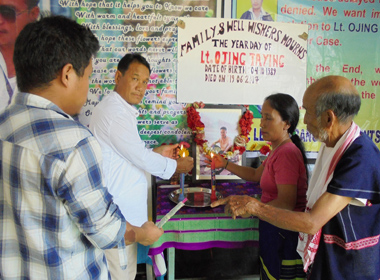 [ Prafulla Kaman ]
NGORLUNG, Jun 19: Even as family members, well-wishers and villagers remembered late Ojing Taying on his death anniversary here on Tuesday, East Arunachal MP Ninong Ering has written to the home minister (HM), urging him to hand over the murder case to the CBI for speedy investigation.
The community members rued the state government's failure to deliver justice to the victim's family even after making repeated promises to do so.
Taying, who was finance secretary of the All East Siang District Students' Union (AESDSU), along with two friends were brutally attacked by a group of unidentified youths in Itanagar on the night of 10 June last year. He succumbed to his head injuries in GNRC Hospital in Guwahati on 19 June, 2017.
The parents of Taying, along with community members say they are dissatisfied that the state government has not yet ensured justice for the victim's family.
They allege that there was "unhealthy political interference in the investigation process, which is causing failure to investigating agency to unearth the facts behind the murder."
The victim's family and community members say they have lost confidence in the special investigation team (SIT), and are demanding that the case be transferred to the CBI.
Fifty-year-old Yasum Taying, mother of late Taying, is still frightened when she recalls the barbaric attack on her son and his subsequent demise in Guwahati. She has been having sleepless nights for a year.
Members of the AESDSU, the Legong Banggo Students' Union (LBSU), the Boring Olung Society, and other community organizations, who paid homage to Taying at his parents' residence here, lamented that the SIT is not properly investigating the case.
Claiming that the investigation officer is "well aware about three girls associated to the assailant(s)," they said the girls have not yet been booked under relevant sections of the law, and termed it "lenience" on the part of the investigating agency.
Talking to this reporter, AEDSU convener and chairman of 'Ojing Taying Justice Demand Committee', Yon Taki, said their ongoing demand is backed by various sections of the local society, who are demanding justice for the victim's family.
AESDSU chief functionaries Oyin Yosung and Taning Darang, and LBSU president David Siram and others have vowed to continue their agitation for justice.