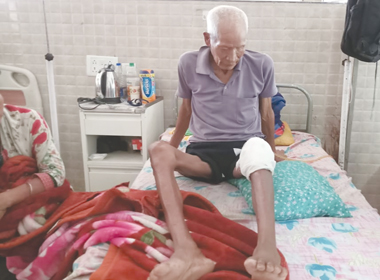 [ Junroi Mamai ]
ITANAGAR, Jun 19: Twelve days after being hit by shrapnel from a bomb dropped by an Indian Air Force (IAF) fighter plane on 8 June during a drill over Ruyu village in Dollungmukh circle of Kamle district, retired SSB soldier Bini Todum is still finding it difficult to move his left leg and can barely stand.
An injured Todum was brought to the Tomo Riba Institute of Health & Medical Sciences (TRIHMS) in Naharlagun from the NHPC dispensary in Gogamukh, Assam, where he had received initial treatment.
Todum was in the premises of his home when the bomb struck, injuring him and damaging his home. Ruyu village falls outside the demarcated bombing range of the IAF.
Incidentally, it was not the first such incident in the area. In 1992, Dollungmukh resident Bini Tabom succumbed to injuries sustained in a similar practice carried out by the IAF. Tabom's family have till date not received any compensation from the IAF or the state government.
Tayu Murtem, one of Todum's grandsons, informed that the IAF had conducted a bombing drill in the area on 5 June too.
"Shrapnel from the bomb almost hit a group of people there, who were quick to take shelter under a tree. However, three mithuns were killed in the incident," Murtem said.
At the TRIHMS, Murtem, along with Todum's son-in-law T Singmung, are looking after the octogenarian, who sustained multiple fractures in his left knee.
"He has difficulty keeping his left leg straight due to the injury in his knee; he can neither move his leg nor stand on his own. Doctors operated on his knee on 11 June and replaced his fractured kneecap with a steel one, but he is still very weak. He is dependent on liquid diet for the last 12 days he has been in the hospital," said Murtem.
Meanwhile, no one from the government or the IAF has made any enquiries about Todum's wellbeing or even approached his family to extend financial aid during the period he has been hospitalized.
"A couple of days after my grandfather was admitted here, four IAF personnel came to visit him. No one else came thereafter," informed Todum's grandson.
Todum's family has been bearing the expenses for his treatment all along, and has so far spent about Rs 1 lakh on his treatment.
Though many organizations have appealed to the IAF authorities and the state government to provide compensation to the victim, Todum has yet to receive any financial aid.