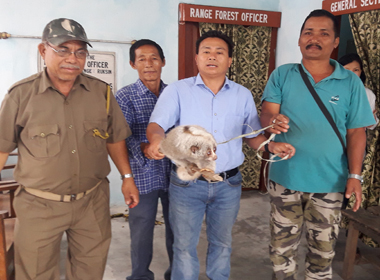 Correspondent
RUKSIN, Jun 20: The forest officials here have rescued a Bengal Slow Loris (Nycticebus bengalensis) from Ruksin town on Tuesday morning. It was later released in the nearby Poba Reserved Forest.
The one-year-old male Slow Loris was found on a bush near forest colony here by the local residents.
With this, the total number of Bengal Slow Loris rescued from human habitation in East Siang district this year rose to five.
Bengal Slow Lorises have been found frequently moving into human habitations in East Siang district, causing concerns among the wildlife officials here.
In the last few years, locals captured at least 10 Slow Lorises that had strayed into human settlements in different parts of the district. The captured animals were later released in reserved forests by forest officials.
The actual reason of the animal straying into human habitation is still not known as no scientific study on the Slow Loris and its behaviour have been conducted so far.
"The animal is either facing disturbance in their natural habitats or suffering from food scarcity in the forests. However, the actual reason of dispersion is not yet known because no special study has been conducted in this regard so far," said Deputy Ranger Opang Jamoh.
According to wildlife experts, habitat destruction through shifting cultivation is one of the main reasons.