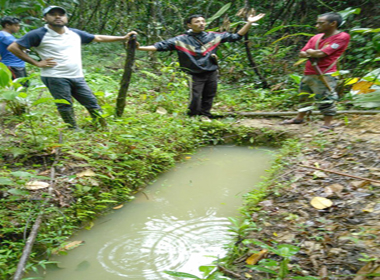 [ Taba Ajum ]
ITANAGAR, Jun 24: While attending the recent Legislator's Dialogue, organised by the Integrated Mountain Initiative (IMI) here on Friday last, a presentation on revival of a drying stream based on the 10 years of work at Soi village, Basar, under Lower Siang district, caught the imagination of all the attendees.
In fact, the crowd present, which included Chief Minister Pema Khandu and Deputy Chief Minister Chowna Mein, gave thunderous applause when the presentation on the success story of Soi model of spring water rejuvenation ended.
Assistant Registrar in RGU and Coordinator of EB Nature Project, Gomar Basar made the presentation on revival of drying stream to secure drinking water supply for the people of Soi village.
As the presentation ended, it came to the forefront that the man behind the success story was Egam Basar, Head of the State Horticulture Research and Development Institute and also a member of the IMI.
While talking to this daily, he explained in length about the project and strongly pitched that success achieved in Soi can be replicated in rest of the state.
"In around 2008-09, I was transferred to Basar as a horticulture development officer. During my stay, I observed that rivers and streams in the area, especially in Kidi, Hie and Bam Hile, were drying up rapidly and leading to scarcity of irrigation and drinking water for some villages, especially Soi village -located at a high elevation", says Egam, who then called his nephew, Gomar Basar, a student at that time, to do something about it.
"We then formed a group and named it Environment Protection Group (EPG), which later on became the EB Project Nature in 2011. We did surveys and vulnerability assessment at all catchment areas and concluded that if something is not done immediately, these rivers may virtually stop flowing during winter after some decades," shared Egam.
He went on to add that Soi village had already abandoned some patches of wetland rice cultivation fields and there was an urgent necessity of reviving the main water source stream known as Bolen Abu.
"Reviving the stream to its original volume was possible only through rainwater harvesting at the catchment area and by regenerating the forest denuded by shifting cultivation. We took Soi Village as a pilot project and started to dig rainwater harvesting pits from 2011, and in 2018 after nearly a decade of our activity, the villagers reported that the stream which was drying up in the winter months has stopped, and the village now receives continuous water supply", said Egam.
Egam informed that their project is an integrated project. While ensuring water for the village, they also ensure food for wild animals and birds too.
"Planting of various native and rare species will enrich our bio-resource and ensure protection of our rich genetic pool. I have a young and dedicated team including my scientist friends. I am sure future generations will remember them as they get to see animals and plants that would otherwise go extinct" adds Egam.
Coming back to the presentation, Assistant Registrar Gomar Basar shared that 1000 recharge pits were dug to harvest rainwater with capacity of 2000 liters in each pit. The digging started in 2011 and as it progressed, availability of water attracted animals, especially the barking deer. It was followed by arrival of a leopard, bears and wild dogs.
He also informed that to ensure food for animals and birds at the project site, a micro bio-resource mission was started under the project in 2015, where local hunters were involved to identify herbal plants eaten by deer and other animals.
Seeds of about 15 local plant species were collected and a nursery was raised for 5000 saplings. In 2017, the first plantation of the bio-resource mission was done with 1000 plants of seven species.
The expertise of Dr Dekbin Yonggam and Dr Ona Apang from the SFRI was also taken to identify medicinal plants and orchids at the project site.
The GRK, an apex social organization in Basar has adopted the model and is implementing it in 26 villages.
The state government should seriously consider replicating Soi model of rainwater harvesting to rejuvenate drying streams and rivers across the state. The availability of drinking water is becoming as precious as gold and every effort should be put in to conserve it for future generations.