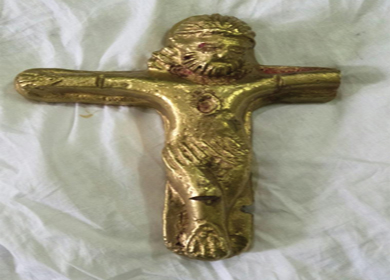 Police cautions buyers
ITANAGAR, Jun 25: The Itanagar unit police apprehended two con men from Majuli and Lakhimpur districts of Assam on 24 June for duping a resident of Itanagar and selling him a fake gold statue of Jesus Christ.
The two accused have been identified as Prodip Milli alias Amojit Milli (28 yrs) from Majuli and Omali Taid (47 yrs) from Lakhimpur.
Police sources informed that one Mangam Takang of Vivek Vihar in Itanagar was approached by one of the accused, Prodip Milli in March. Milli had claimed that he had found a gold statue of Jesus Christ (weighing 2.3 kg), from a river bank, and expressed his desire to sell it to Takang.
As a Christian, Takang agreed to purchase the gold statue, and on 17 March, made a deal at Banderdewa by paying a sum of Rs 6, 35,800 as advance payment.
In his FIR, Takang informed that after receiving the amount from him, the seller disappeared from Banderdewa, leaving the presumed gold statue at the place of the deal.
Later, when the quality of the gold was examined, it was found to be a fake and made of brass.
However, the case was reported to the police on 8 June.
On being endorsed with the case, investigating officer Inspector Karbom Tao, ASI PK Gohain and team, under the strict supervision of the Itanagar SDPO and Itanagar PS OC, succeeded in nabbing two culprits involved in the scam, and investigation is underway.
Meanwhile, Itanagar SDPO Kamdam Sikom informed that several similar complaints have been received from various quarters.
"Unscrupulous persons call over the phone, offering to sell gold for less than the market rate. They claim that the gold was accidently unearthed while digging up a construction site or in other similar ways. The callers insists that the buyer come to Lakhimpur in Assam to make the payment", informed Sikom.
The SDPO has alerted the public not to fall prey to fraudulent callers promising to sell gold below the market rate and to inform about the same to the nearest police station.