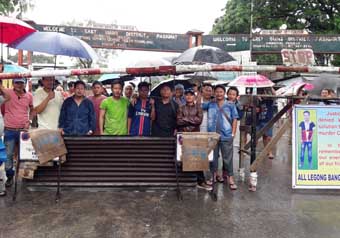 Correspondent
RUKSIN, Jun 28: The 12-hour bandh sponsored by the All East Siang District Students' Union (AESDSU) was observed across the district peacefully, except for an incident at Ruksin where protestors burned a motorcycle in the morning.
The rest of the day saw peaceful protests in Pasighat, Mebo and Ruksin subdivisions.
In Ruksin, community organizations, led by leaders of the Legong Banggo Students' Union blocked National Highway-15 at the check gate, while members of the AESDSU and the Mebo Area Students' Union blocked the highway and the town roads in Pasighat and Mebo, respectively.
Banks, petrol depots, educational institutions and business establishments remained closed, and vehicular movement came to a standstill along National Highway-15 and other rural roads during the bandh hours.
Attendance in government offices was also thin.
The AESDSU had announced the bandh in protest against the state government's indifference towards delivering justice to the family of Ojing Taying, who succumbed to his injuries after being attacked by unidentified miscreants on the intervening night of 9 and 10 June, 2017.
The protesters demanded that the home department hand over the case to the Central Bureau of Investigation as the case has made no headway even a year after the incident.
The AESDSU and other organisations alleged that the special investigation team (SIT) is not conducting proper inquiry into the case.
"No arrest has been made in this case so far, even after the investigating officer has interrogated numerous persons suspected to be involved in the attack," the unions lamented.
Ojing and two of his friends were attacked by unidentified persons on the intervening night of 9 and 10 June last year. Owing to his injuries, Taying was rushed to GNRC Hospital in Guwahati, where he succumbed to his injuries on 19 June, 2017.